Vibratory table (VT)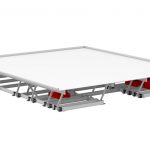 The vibratory table is mostly applied in saw mills for the lateral conveying of slabs and splinters as well as waste wood. It is very flexible in terms of length, width and height. Standard widths are available in 500 mm steps. The max. area is at the moment 45 m².
The vibratory table mainly consists of a steel-plate platform, guide bars and one or two eccentric shaft drives.
Special design: eg. screening section
Standard height up to top edge: 900 mm – max. 1800 mm available