Double-shaft re-shredder VVZ 210,300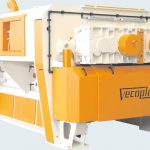 The VVZ double-shaft re-shredder was developed for re-shredding pre-shredded used timber, pre-shredded municipal solid waste, sorting waste, and much more in order to produce separable material for recycling and re-utilisation. Different rotor systems and geometries are available to optimise the shredding capacity with different material. The two solid steel rotors with a diameter of 500 respectively 640 mm maximise the shredding efficiency. The machine is equipped with the "Flipper", a pneumatically pre-tensioned counter knife that prevents damage if tramp materials are fed in. This also makes it easy to remove tramp material without having to unload the hopper. The VVZ also features two large hydraulic access doors that make wear parts easier to replace and allow tramp materials to be removed, even when the hopper is completely full.
Key features:
the drive : 2 x 75 kW to 2 x 200 kW
the screen mesh sizes : 20 and 150 mm.
capacity: 5-40 to/h – depending on the screen mesh size and input material
In addition to the standard drive, the VNZ XL is also available with the patented HiTorc® drive, which reduces power consumption by up to 60% compared to the standard drive system.
More: